Technology Commercialization Speaker Series
"Successful Venture Investing in Transportation Technologies"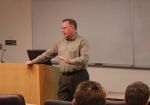 Speaker:
Thomas E. Parkinson
Partner
Woodland Venture Management
Chicago, IL

Bio: Thomas E. Parkinson is a Partner with Woodland Venture Management, which operates two regionally focused venture capital and private equity funds. He is a partner in Hopewell Ventures, a $110 million fund targeting the Midwestern United States. He is also a partner in Adena Ventures, a $36 million fund investing in low income areas in central Appalachia. He is currently a Director of VHT, Vested Health, Emergent Game Technologies and Harmonic Vision. He was a director of TLContact until its acquisition 2007 and SageQuest until its acquisition in 2010. He participates as a board observer with GamePlan and iTRACS.

Previously, he was the Executive Director of the Evanston Business Investment Corporation. While there, he made and managed investments in more than 20 start-up companies, including Peapod, Everyday Learning and Illinois Superconductor.
Mr. Parkinson has taught courses in entrepreneurial finance and venture capital at the University of Illinois at Chicago, Northwestern' Kellogg School of Management, the University of the West Indies and the Czechoslovak Management Center. He holds a bachelor's degree in Economics from Northwestern and an MBA from the Kellogg School of Management.